K-State GPU 2017
Grandparents University
This event was held July 30–August 1, 2017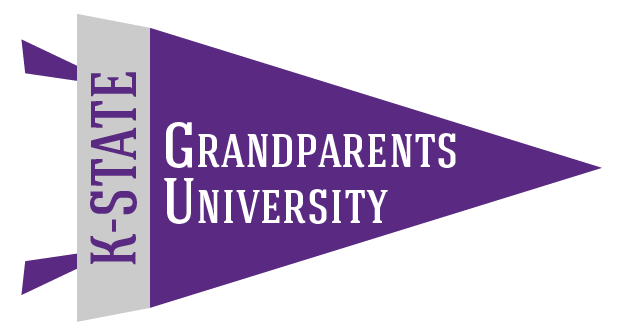 2017 Grandparents University
Join us on campus for three days and two nights of Wildcat activities for you and your grandchild(ren)!
Camp will begin mid-afternoon on Sunday and conclude with brunch on Tuesday. All participants will stay in a suite together in a dormitory and eat in the Derby Food Complex just like a college student. Our semi-structured schedule involves activities from units such as Engineering, Human Ecology, Education, Architecture, and Beach Art Museum. Additional opportunities include swimming and bowling and of course a luscious scoop of Call Hall ice cream! There will be time to explore campus while participating in a scavenger hunt. Make plans now to reunite with campus, do the Wabash, and spell K-S-U! Share your K-State pride while making memories with a special child in your life!
K-State's Grandparents University is designed to be a fun, learning adventure. You will have the opportunity to share your love of K-State while…
Working together on hands-on learning activities
Having fun during the various evening activities
Staying in one of the university residence hall suites
Enjoying time together
Meeting other K-State grandparents and grandchildren
Visiting Manhattan
Sharing K-State memories
K-State GPU gives multi-generational families the opportunity to experience college life together during the summer. It is also an optimal time to help alumni and other adults supportive of the KSU land grant mission to become re-acquainted with the campus.
K-State Grandparents University is an opportunity for grandparents and grandchildren (ages 8-12) to come together for a three-day educational experience while spending time together on the KSU campus.
Participants enjoy the college experience of living in the residence halls, attending classes across campus and sampling the many highlights of K-State. Grandparents University gives alumni a chance to relive their college days while exploring campus and creating lifelong memories with their grandchildren.
Grandparents University is open to all alumni. We welcome any combination of alumni and 8-12 year old. For example, if an alumnus would like to bring their niece, nephew, or neighbor they are more than welcome!
The program is self-supporting and relies entirely on registration fees, donor contributions and sponsor support to cover all expenses.
---
Adult/Child Requirement
Children attending Grandparents University must be accompanied by an adult at all times. No more than two children can be accompanied by one adult. Similarly, no more than two adults may accompany one child.


---
Required Contact Information
There are several pieces of information needed for registration and we strongly encourage you to obtain this prior to starting registration. In addition to names and contact information for those attending, you will also need the names, email, phone and mailing address of the child's parent or legal guardian. All communication is done by email, so you'll need to provide an email address for each adult participating as well as the child's parent/guardian. You'll also need the age of the child (at the time of Grandparents University 2017) and t-shirt sizes for all participants. Once you're registered, each participant must sign and complete several release forms, which will be sent to attendees after registration.
---
Cancellation Policy
If you must cancel your registration, please send a written request to the conference registration office at registration@k-state.edu by June 30 to receive a refund less a $20 processing fee. We will be unable to issue any refunds after this date since we will have already incurred a majority of the costs for Grandparents University. As a self-funded program, we cannot use public university dollars, and therefore refunds are not possible after the date noted above. Please consider this carefully when registering.
Fees will not be canceled for registered participants who do not attend and have not notified our office by the cancellation deadline.
Global Campus may cancel or postpone any course or activity because of insufficient enrollment or other unforeseen circumstances. If the conference is canceled or postponed, Global Campus will refund registration fees, but cannot be held responsible for other costs, charges, or expenses, including cancellation/change charged assessed by airlines or travel agencies.
---
Grandparents University Health Information
Kansas State University does not collect or review health information regarding participants in Grandparents University. The University does, however, require certain consents as a condition of participation in the program. All children participating in Grandparents University must have a signed Release, Hold Harmless, and Indemnity Agreement, signed by the child's parent or guardian, on file with KSU.
Adult participants are required to submit a signed Release, Hold Harmless, and Indemnity Agreement. Grandparents University maintains a list of urgent care facilities and emergency room facilities should you or your grandchild require medical assistance.
Both Release, Hold Harmless, and Indemnity Agreement Forms are located above under Registration. You are welcome to send these completed forms with your registration form. You may also bring them with you to registration check-in.
A sample Medical Authorization Form is available above also. This form will not be collected by Kansas State University and is not a requirement for Grandparents University. We do encourage grandparents to obtain some form of medical authorization from their grandchild's legal guardian in the unlikely chance the grandparent may have to make medical decisions for their grandchild.
---
2017 Tentative Schedule
Sunday, July 30, 2017
1:00–2:30 p.m. – Welcome and Dorm Decorating
2:30–2:4 p.m. – Housekeeping Rules and Regulations (Haymaker Hall Lower Level)
3:15–4:15 p.m. – Wildcat Welcome (Memorial Stadium)
4:15–5:00 p.m. – K-State Student Union Tour
5:00–6:30 p.m. – Dinner (Vista Burger Food Truck)
6:15–7:45 p.m. – Bowling and Billiards (Union Bowling Center)
8:10–8:20 p.m. – Day Two Information (Haymaker Hall Lower Level)
Monday, July 31, 2017
7:00–8:15 a.m. – Breakfast (Kramer Dining Center)
8:30–10:00 a.m. – Session 1: Insect Zoo, Tap Dance Museum, or Architecture
10:30–11:45 a.m. – Session 2: Beach Museum, Geology, or Business
12:00–12:45 p.m. – Lunch (Kramer Dining Center)
1:00–2:30 p.m. – Session 3: Engineering, Insect Zoo, or Architecture
2:45–3:15 p.m. – Ice Cream Break at Call Hall
3:30–5:00 p.m. – Session 4: Education, Business, or Journalism and Mass Communications
5:15–6:30 p.m. – Dinner (Kramer Dining Center)
7:00 p.m. – City of Manhattan Waterpark and Splashpark
Tuesday, August 1, 2017
9:00–10:00 a.m. – Peters Recreation Complex Tour, Veterinary Medicine Health Center Tour, and Athletics Tour (Intercollegiate Rowing Center, Ice Family Basketball Center, Bramlage Coliseum)
10:00 a.m. – Brunch and Remarks from Participants
→ 2017 Session Descriptions (PDF)
---
Registration includes:
Sunday dinner
Monday breakfast, lunch, dinner, and Call Hall ice cream
Tuesday brunch
All tours and activities
A free game and pair of shoes for bowling
A free pass to the Natatorium pool
One suite for two nights in Haymaker Hall
A t-shirt, bag, and memories to last a lifetime!
Please see our Frequently Asked Questions page for more information.
2017 Grandparents University Staff